Fourth quarter highlights were the following: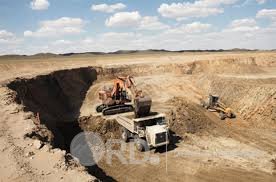 Full year gold production and costs were better than guidance.
Produced 362,234 ounces of gold in the fourth quarter, including 348,130 ounces at Kumtor and 14,104 ounces at Boroo.
Increased revenues to $468.9 million compared to $368.5 million in the same quarter of 2012.
All-in sustaining costs per ounce sold were $433 in fourth quarter and $818 for the full year.
All-in costs per ounce sold were $474 in the fourth quarter and $920 for the full year.
Increased indicated resources at the Öksüt project in Turkey by 60% to 1.1 million contained ounces of gold.
Proven and probable gold reserves total 10.2 million ounces of contained gold.
Cash provided by operations was $359.5 million compared to $209.1 million in the fourth quarter of 2012.
Entered into a non-binding Heads of Agreement with the Kyrgyz Republic in connection with the potential restructuring of the Kumtor project, replaces MOU signed in September 2013.

URL
:
АНХААРУУЛГА: Уншигчдын бичсэн сэтгэгдэлд Ord.mn хариуцлага хүлээхгүй болно. ХХЗХ-ны журмын дагуу зүй зохисгүй зарим үг, хэллэгийг хязгаарласан тул ТА сэтгэгдэл бичихдээ хууль зүйн болон ёс суртахууны хэм хэмжээг хүндэтгэнэ үү. Хэм хэмжээг зөрчсөн сэтгэгдлийг админ устгах эрхтэй. Сэтгэгдэлтэй холбоотой санал гомдлыг 7012-1080 утсаар хүлээн авна.
Foreign shares
New York Stock Exchange
Name
Closing
Changes
BHP Billiton
Ivanhoe Mines
90.53
23.3
1.44
0.00
Australian Stock Exchange
Name
Closing
Changes
General Mining Corp
Aspire Mining Limited
0.145
0.52
0.00
-0.02
London Stock Exchange
Name
Closing
Changes
Petro Matd Limited
polo Resources Limited
123.5
5.4
0.00
0.02
Hong Kong Stock Exchange
Name
Closing
Changes
Mongolian Mining Corporation
Mongolia Energy
9.59
1.14
0.00
-0.06
Toronto Stock Exchange
Metal exchange rates
Coal price data